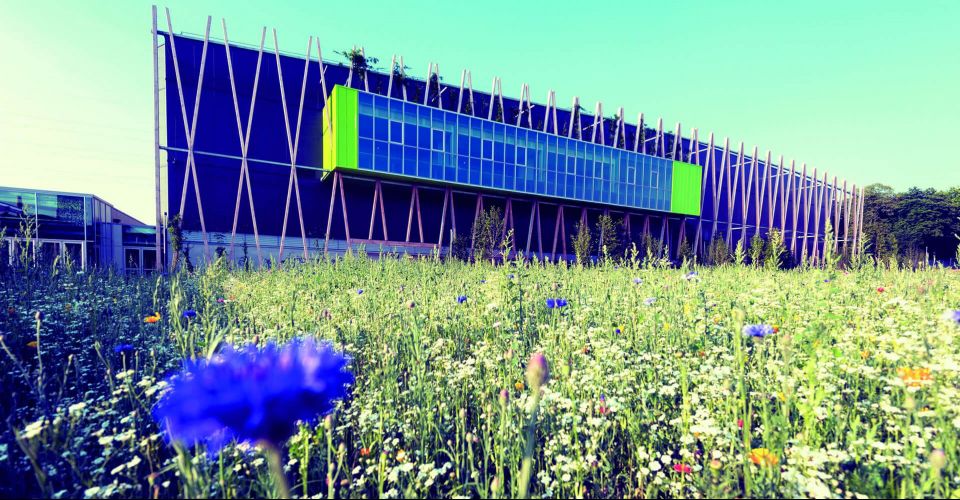 "ExpoNantes" combines Exhibition and Nature
Located on the road to Saint-Joseph de Porterie, only 700 metres from your Brit Hotel Nantes Beaujoire and its restaurant l'Amandine, the Parc des expositions de Nantes is described as one of the most aesthetic in France thanks in particular to its 20 hectares of green spaces and the passage of the Erdre nearby. In addition, the presence of the nearby Floral Park is a real plus for visitors who can combine visiting and walking...
Every year, the Nantes Exhibition Park hosts more than 85 trade fairs and events, including the renowned Carrefour International du Bois, the Serbotel, the Floralies and others Jumping International de Nantes... In total, the exhibition park receives nearly 550 000 visitors each year.
See all upcoming exhibitions on the official Exponantes website.
La Beaujoire district - Parc des Expos
A booming exhibition centre

Click to zoom in and open a new window.
Built in 1969, the Nantes Exhibition Centre was remodelled in 2013 with the construction of a 15,500m² XXL hall with a surface area of 15,500m² that can accommodate, in a sports hall configuration, more than 11,000 people (record attendance with the HBC Nantes Handball match against Paris-SG in December 2016). In 2013, the park of Exhibitions has seen its covered surfaces extended from 8000 m² to nearly 30000 m² with in particular the creation of this hall XXL, a theatre of sporting achievements and other major exhibitor events.
How to get to the Parc des Expositions de la Beaujoire?
Like our hotel, you can easily access the exhibition grounds via tramway (line 1) or bus (lines C6 & 75).